Dummy tickets for all occasions
Visa applications | proof of return ticket | Dummy hotel booking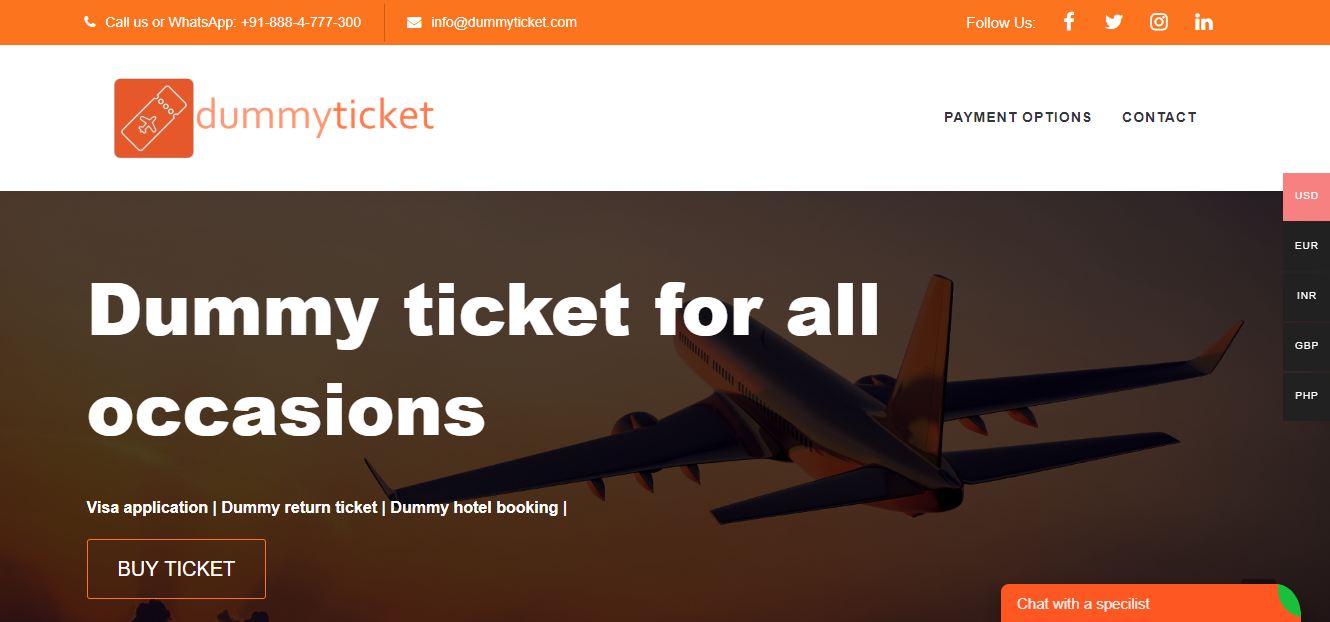 A little bit about Us
Dummyticket.com provides flight reservations and hotel bookings for visa applications. We are the original dummy ticket booking engine founded in the year 1990. Serving customers from all over the world with multi lingual staff and multiple payment and currency options.
Perfect for visa application
Dummy ticket is valid for up to 2-3 weeks

Up to 4 changes allowed
Can be used as return ticket in most airports

19 USD | 1300 INR | 70 AED | 16 EUR | 14.50 GBP
Perfect for visa application
Ticket and hotel is valid for 2-3 weeks

Accomodation up to one month
Up to 4 changes allowed

Can be used in Schengen and other countries
35 USD | 2400 INR | 128 AED | 30 EUR | 26.70 GBP
Return ticket for showing in immigration
Confirmed ticket issued on flight dap. day

Can be used for Ok to board
Prices start from 30 USD

30 USD | 1950 INR | 100 AED | 25 EUR | 23 GBP
Dummy ticket
Dummy ticket for showing at the airport as proof of return.
Travel Insurance
Protect yourself and your family with affordable travel insurance
Visa appointment
Let us help you schedule your visa interview and appointment dates
Accommodation
Dummy hotel booking required for applying visas in some countries
Networking
Forwarding you to the right travel agent in your country for specific requirements